About Us
Marquette MI Custom Laser Engraving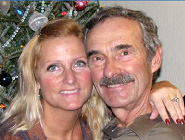 Nancy and Jon Wennerberg, former owners of Star Industries, have recently opened a new business in Harvey. It's called Kudos Laser Engraving. The store is in the located in the Chocolay Ace Hardware parking lot in the same building as Kerry Noble's new business called Home Energy Solutions.

Nancy and Jon bought a laser engraving company that had been operating in Ishpeming for the past few years, moving it to Harvey to enjoy the friendly atmosphere of doing business in the community. The Wennerbergs live south of Skandia - making the Harvey location much more convenient for them. Nancy also runs the store's business side, while Jon takes care of "outside" sales - offering Kudos' services to firms, offices, the hospitals and medical care facilities, etc, etc! Nancy and Jon employ Travis Turner, a Marquette native, to operate the technical part of the business, transforming photographs and other bits of information - into the special computer language that can be used by the computer-controlled laser engraver.

Jon said "We've been surprised by some of the requests we've had. Not only do we get asked to make desk nameplates, for instance, but we recently used a photo from the very first UP 200 sled dog race as the basis for an engraving on a piece of granite supplied by Republic Memorials". The resulting work will be combined with other art as part of the on-going fundraising efforts of the UP 200.

Kudos makes trophies for just about everyone - pool leagues, basketball and hockey and cribbage and classic car cruises, and so on. Medals, trophies, wall plaques, and a specialty - using a treasured photo as the image that's engraved on a mirror and mounted on a stand. "It's a wonderful way to remember Grandma and Grandpa's wedding ceremony, for instance" said Nancy.